What is EngageWell?
The EngageWell pod aims to promote healthy social relationships at UCLA working in partnership with other constituencies. Our social relationships on campus have many forms including pairs, small and large social groups, work and living units, and the campus community as a whole.
Our specific pod goals are:
To foster new social connections at UCLA — through many avenues, across diverse groups of people, and for many purposes such as education, service, dialogue and enjoyment.
To enhance the quality of existing relationships, for example, through learning better relationship skills and current evidence on compassion and empathy, and stronger sense of belonging.
To promote positive social behaviors on campus including civility, acceptance and inclusiveness consistent with True Bruin values especially respect and integrity.
Have a question, concern, or an idea? We would like to hear about it!
Or email us directly at engagewell@ucla.edu
Theodore Robles, Ph.D., EngageWell Co-Leader
Ted Robles is a Professor of Psychology at UCLA. He studies the biological mechanisms that explain how social relationships influence health. Dr. Robles is uncovering how supportive relationships with parents and spouses influence our immune system response to threats in the environment. Dr. Robles and his students are also investigating the potential health benefits associated with support from friends, intimate partners, and co-workers, including the possibility that affection in close relationships may "turn down" the body's stress response, and whether support from co-workers can enhance positive outcomes in diabetes prevention programs.
Chris Dunkel Schetter, Ph.D., EngageWell Co-Leader
Chris Dunkel Schetter is a Distinguished Professor of Psychology and Psychiatry at UCLA. Her research spans many areas of maternal and child health, with a particular focus on stress, anxiety and depression in mothers during pregnancy and birth, and related maternal and child outcomes. Dr. Dunkel Schetter has been a figure in research on social support for 40 years with seminal papers and recent work arguing for the necessity of intervention work. She is passionate about EngageWell efforts to improve how we engage individually and as a community on campus, and about how we can embrace equity, diversity, and inclusion in our relationships.
Erinn Mcmahan, Director of UCLA Recreation, EngageWell Pod Co-Leader
Erinn McMahan is the Director of UCLA Recreation, which provides extensive access to a broad range of recreational activities and services. Erinn brings extensive experience in university administration, facility and program management, and coaching to his role as Director. Previously, Erinn served as the interim Associate Director of Programs and Outreach for UCLA Recreation where he helped to complete the Jane B Semel HCI Community Garden. Erinn also served for 10 years as Program Director for the Marina Aquatic Center (MAC), UCLA Recreation's boating facility, where he initiated free student kayaking, which now attracts over 3,000 UCLA student participants a year and introduces many to basic boating safety principles.
Chelsea Romney, M.A., C.Phil., EngageWell GSR
Chelsea Romney is a PhD student in Health Psychology. Chelsea hopes to foster healthy and strong social relationships on campus by promoting civility and engagement. Her research is aimed at increasing social connection for people from all walks of life.
Jessica Nunez, Undergraduate Student, EngageWell Blogger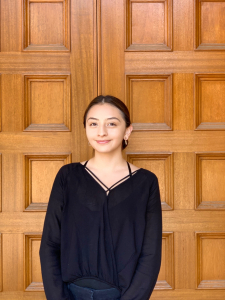 Jessica Nunez is a a fourth-year undergraduate student double majoring in Cognitive Science and Spanish, Community & Culture. As an EngageWell blogger, she writes about campus events and projects aimed to help students' social well-being as well as coordinate social media posts for the organization. She is very excited to continue her role as a blogger. In addition to blogging about health and wellness, she is very passionate about addressing the health inequities affecting the larger Spanish-speaking community.